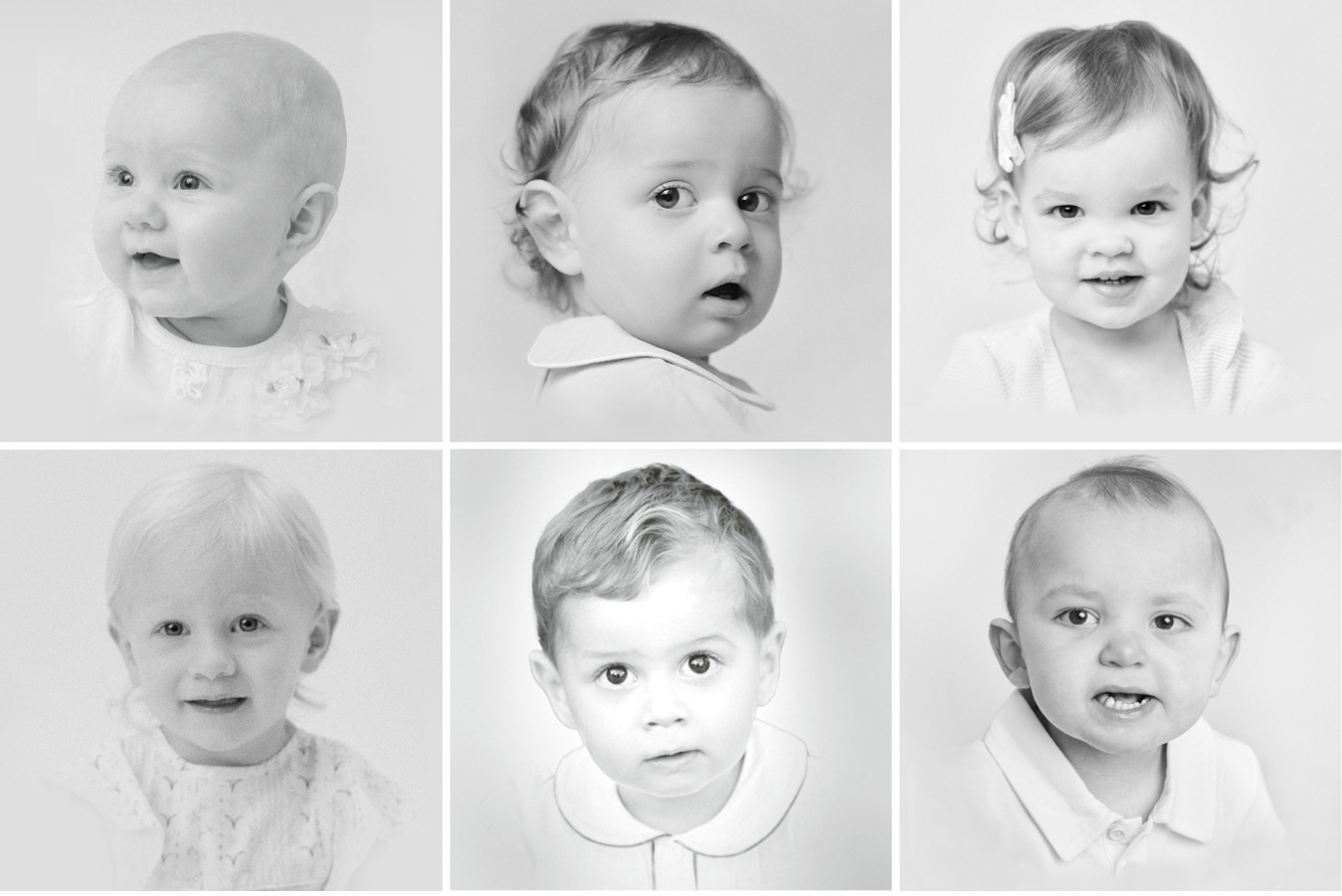 I have a new offering I want to share with you: fine art heirloom style portraits. I'm offering these sessions at a deeply discounted rate in my studio for the rest of the month, and I'd love it if you'd book a time to bring your kid(s) in.
What are fine art heirloom style portraits?

Fine art portraits are timeless studio portraits that are all about the finished product: heirloom prints of your child that you can hang on your walls and enjoy forever. These portraits are perfect for kids that can sit on their own (6 months+). They freeze frame your child's sweet face and capture the simplicity and detail of childhood.
These fine art portraits will take place in my studio in Fort Worth, Texas and are best suited for children ages 6 months - 10 years. I would like to think that you could have them done each year, and watch their little faces grow and change. A child is truly never too old (better late than never!) and this would make the perfect Easter or Mothers Day gift.
SESSIONS:
The studio session will last around 15 minutes. For some that may sound too long and for others too short, but if I've learned anything over the past 3 years with my high volume headshot work, it's that I can direct your child and click the shutter 20 times and elicit a variety of expressions. Some sessions are complete in 5 minutes. If your child is one who needs a little time to warm up, I'm not going to chase you out. These sessions are laid back. You will be right there the whole time to help make your child smile, laugh, and feel comfortable. Toys, books, or songs that evoke smiles are encouraged. Since the portraits are close-up, sometimes I have you sit and hold your child's hand. Other times I have you sit beside the camera with me.
DRESS:
Dress your child in a light or white collared shirt without patterns. Simple smocked dresses on girls are perfect. Peter Pan collars are perfect. Eventually I will have a client wardrobe, but at this time, I do not. If you need any suggestions for clothing, just ask me and I can point you in the right direction.
SESSION FEE:
$75 Weekday / $125 Weekend
This session fee is a reduced portfolio-building rate available through March 8th . The sitting fee includes the 15 minute studio session with white backdrop and watermarked gallery of images for you to proof. Print collections are purchased after you receive your gallery. Sibling groups are welcome, but please allow for their own session. Each sibling is an additional $50 for the sitting fee.
PROCESS:
Within one week of your portrait session you will receive an online gallery of around 15 watermarked images where you will choose your favorites for single prints and poses to be combined in the composite print of your choice. Once you've selected your favorite images and print collection, then I'll order your prints. This process takes 2 to 3 weeks depending on how quickly you make selections. Prints will be mailed to you, and additional prints can be ordered via your online gallery. These prints make the perfect gift for family!
FAQs:
How can I book my session?
You can book your session HERE via my Square booking site.
Can I get some photos that are not heirloom style while we are there?
Yes! For reference, below is an example of the original image with the fine art edit.
What if we can't make a weekday work?
If you would like a weekend session, please email me with the time of morning or afternoon that your child is happiest and if you prefer Saturday or Sunday, and I will email you back to confirm availability.
How much are prints?
There is no minimum print order for these sessions. See the packages and a la carte pricing below.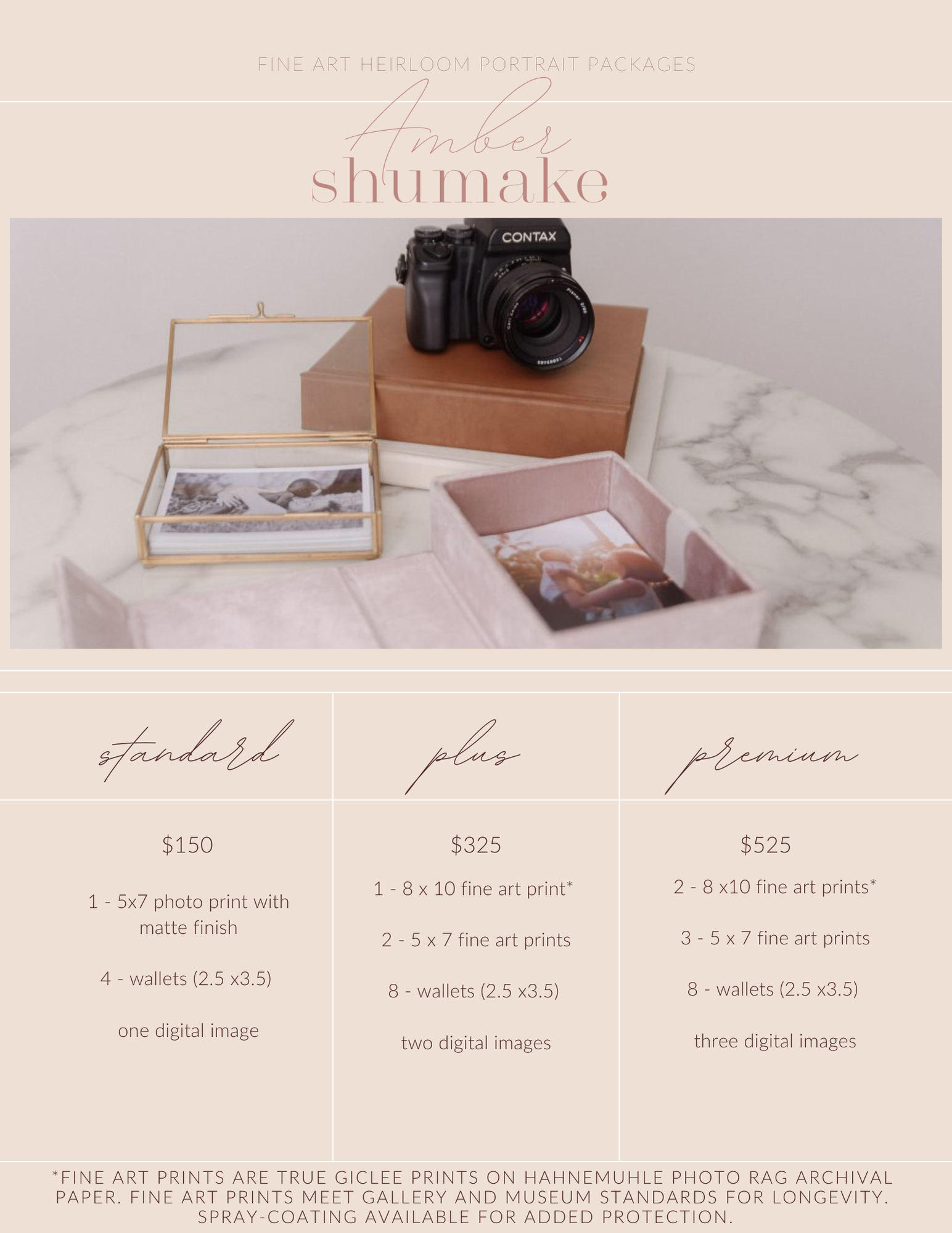 A LA CARTE FINE ART* PRINT PRICES:

4x6 $30
5x7 $36
8x8 $75
8x10 $75
11x14 $150
16x20 $175
20x24 $210
24x36 $425
*True giclee prints on Hahnemuhle Photo Rag archival paper. Fine art prints meet gallery and museum standards for longevity. spray-coating available for added protection.I'm truly excited about these sessions. These are the types of prints I place on my own walls, and I hope they will become treasures throughout the generations.
I'm truly excited about these sessions. These are the types of prints I place on my own walls, and I hope they will become treasures throughout the generations.